Services
Fleet surveys

To ensure we have all your vehicle details on our database we would plan a site visit with you to gain a greater understanding of your fleet profile and to convert this information into vehicle specific schematics.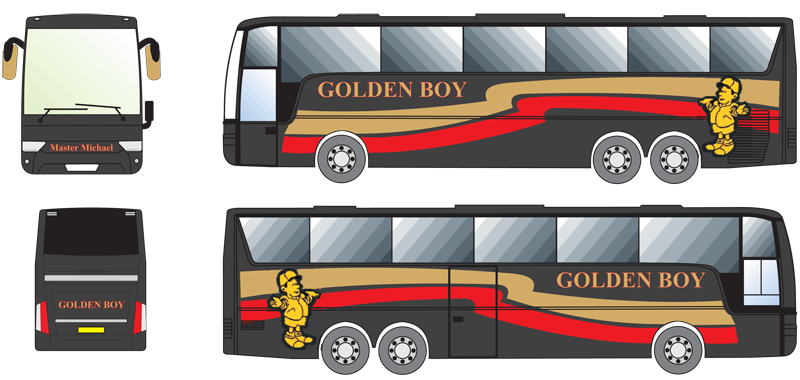 A promotional sticker is left with you along with the appropriate number of Tax Disc Holders and a pouch for the driver's cockpit area containing windscreen chip protective plasters.
Glass Repairs

Our Service Delivery Vehicles (SDVs) carry a windscreen repair kit and our policy is to offer repair wherever practically possible.
All windscreen repairs are strictly carried out in accordance to BSAU242a.
Our Glass Technicians are trained in the glass repair process and are regularly technically appraised.
Should a windscreen fail the repair the cost will be deducted from the replacement windscreen invoice.
Protect a chip in your windscreen from moisture and dirt with a chipatch - because a chip which is contaminated with moisture or dirt is much more difficult to repair satisfactorily.
So if you are unlucky enough to sustain a chip in your windscreen, cover it (but NOT in the driver's line of vision) with a chipatch and call us.
Glass Replacement

We work to a Service Specification and to a set of H&S standards and we work within the safety guidelines laid down by
HSE
. Our Glass Technicians have been instructed by Dow Automotive in the recommended procedures for glass installation and each hold a
Qualifying Certificate
.
All the specialist vehicle glass we install is carried out following the OEMs technical instructions as far as practically possible. In the absence of OEM technical instructions the Dow Automotive instruction manual and The PSV Glass Comprehensive Guide to Bus and Coach Glass Bonding are both referred to as a base guidelines.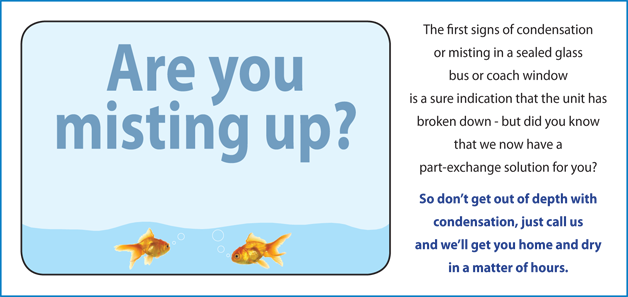 Only replacement glass parts meeting exacting OEM standards and strictly complying with BS: 857 or European legislation E43r and conforming to the Road Vehicles (Construction and Use) Regulation and compliant to VOSA standards are used by us in the installation.
We use advanced Dow Automotive polyurethane (PUR) products in the direct glazing (bonding) of vehicle glass to achieve a fast Safe Return to Service (SR2S) time, a guaranteed OEM strength and integrity after the curing process plus a superior finish.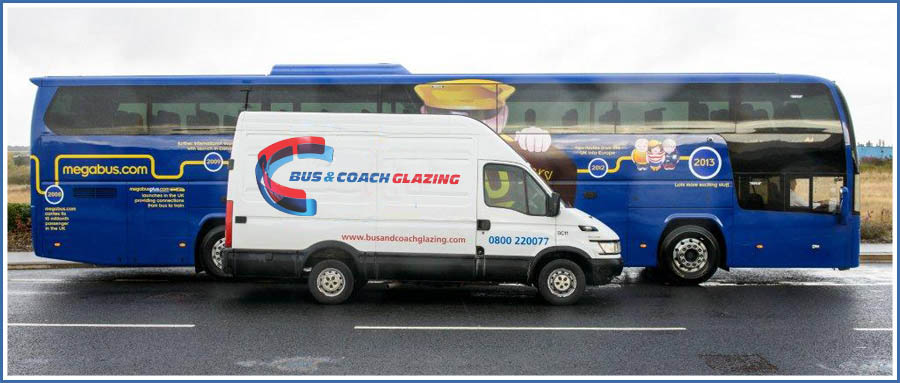 SDVs are equipped with the latest on-board tracking system with real-time virtual movements relayed to wall monitors in our strategically located Control Centres ensuring the optimum timely arrival at your premises anywhere in the UK and Ireland.
A mirror hanger is left in the driver's cockpit advising that the replacement glass has been fitted to the approved standards, following the right procedures and using the correct materials. The SR2S time and the tacho reading are also recorded on the mirror hanger and then signed off by our Glass Technician.

We warrant all our installation work with an unconditional 12-month workmanship guarantee and we also warrant the glass we use against any latent manufacturer defects. The batch numbers of all the products we use in the installation are recorded on the Job Sheet for traceability purposes.
COSHH data is available for all the chemical products we use in the glazing procedure.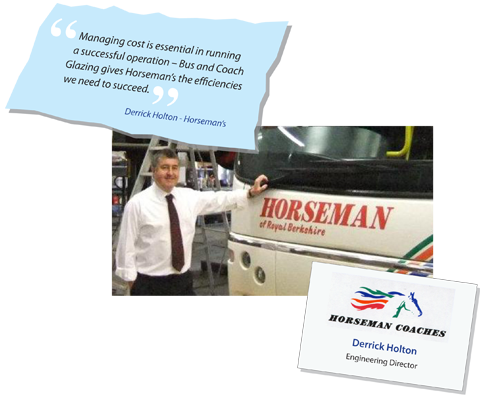 Bus and Coach Glazing
- precision engineered service